Sunrooms are a great way to get away from the gloom of day-to-day life and enjoy the sun for as long as you want. These rooms are built in such a way that they let in as much sunlight and heat as possible due to having a lot of large windows all around.
But it is these windows that sometimes pose problems such as lack of privacy and energy inefficiency, causing the owners to look for suitable sunroom window treatments.
There are quite a few window treatments that fit the bill for sunrooms. You can install plantation shutters, roman, solar and cellular shades on these windows. You can also use drapes and curtains to give the room a bit more classy look.

Finally, using vertical blinds for sunroom windows is also a good idea.
Let's take a deeper look at the window treatments for your sunroom.
6 Best Sunroom window treatment ideas
Sunrooms are one of the most unique rooms in a house due to their purpose and architecture. The room is designed to maximize the entry of light and heat, and so has no walls to speak of. The entire room is surrounded by glass, which causes light and heat to enter the room with little to no barrier.
As good as it sounds, there are a couple of problems with the design of the sunrooms. First, they can at times let in too much light and heat, which makes staying in the room almost impossible. Also, these rooms have no privacy at all, due to being surrounded by glass. This is where window treatments for sunrooms come into play.
The best window treatment for sunrooms has to have a few characteristics. First, it has to be able to regulate the amount of light the person staying in the room wants. Second, it has to be energy efficient and regulate the heat inside the room, without making it too hot or too cold.
Next, the sunroom window coverings have to protect the privacy of the person in the room, so they can not have segments that sway with the wind, nor can they be transparent. Finally, they need to be aesthetically pleasing and should complement the room well.
So, with that being said, here are a few best window coverings for sunrooms for you to consider.
1. Plantation shutters
What makes plantation shutters one of the best window treatments for sunrooms is their versatility and ability to regulate light and heat. These shutters are suitable for all the rooms in the house, and sunrooms are no exception. Because of these shutters' superior ability to control how much light enters the room, they are the perfect window coverings for sunrooms.
Also, these shutters are made of excellent insulating materials, which ensures the room never gets too uncomfortable for you to stay in. This also increases the energy efficiency of the room and saves a lot of money.
Additionally, plantation shutters complement the wide windows and the rooms very well due to their classic design and nature.
2. Roman shades
If you want shades for your sunroom but also want the style that drapes and curtains bring, you can try out roman shades for sunrooms. One of the best looking and functioning shades in the market, these shades stay flat when closed, and roll up in nice pleats when opened, causing very little clutter.
You can easily regulate how much light you want in the sunroom with these.
Roman shades have pockets that trap air, which makes them very effective when it comes to energy efficiency. These shades are also very beautiful and come in a lot of colors and patterns, enabling them to enhance the aesthetics and the curb appeal of your home.
3. Cellular shades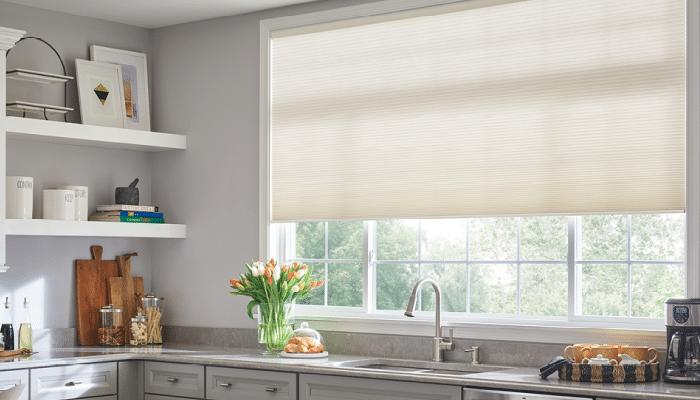 Another one of the best sunroom window treatment ideas is cellular shades. These shades are specifically designed to increase the energy efficiency of a room to the maximum. So, what better place to install them other than your sunroom? These shades can filter light and let in the exact amount of light you want in your room.
The reason cellular shades are one of the best window coverings for a sunroom is their energy efficiency, which makes them stand out. These shades have multiple layers to trap air, making the room not only energy efficient but comfortable as well.
Add to that the sheer beauty of honeycomb shades, and you have the perfect sunroom window covering in your hands.
4. Roller and solar shades
One of the biggest issues regarding window treatment ideas for sunrooms is how they will look from the outside. Installing roller shades will help you get rid of these concerns for you. Not only do these shades come in a lot of different types of fabric, but they also have a lot of color patterns for you to choose from.
There is another very big advantage of solar shades for sunrooms. Since there is a lot of sunlight coming inside the sunrooms, whoever is inside the room will be bombarded with harmful UV rays.
Solar shades prevent at least 75% of UV rays from entering the sunroom, making it the prime candidate if UV protection is at the top of your priority list.
5. Drapes & Curtains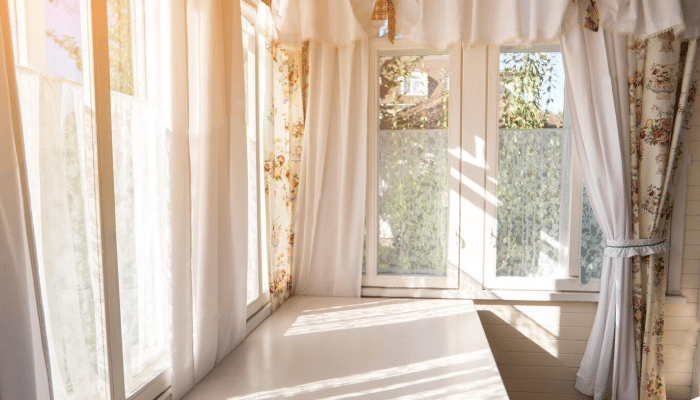 Drapes & Curtains give any room a sense of style, elegance, and class, which no other window treatment does. This is why it is no wonder that curtains in sunrooms are one of the top choices for a lot of people. 
Apart from the obvious upgrade in aesthetics, drapes or curtains for sunroom windows also provide a lot of light filtering and regulation. You can choose a lighter color drapes or curtain for letting in a lot of light without heating the room, or do the opposite to make the room darker and a bit warmer.
6. Blinds 
Blinds are suitable for almost every kind of window, including sunroom windows. Since sunrooms have very large and wide windows, one of the best sunroom blinds ideas is vertical blinds. These blinds are suitable for large, wide windows and don't weigh a lot, unlike horizontal blinds. 
But there are a few issues with blinds in sunroom windows. First, if you are looking for inexpensive sunroom window treatments, blinds might not be for you.
Second, blinds get dirty easily, and cleaning them is quite difficult, despite vertical blinds being easier to clean than the rest. Finally, vertical blinds' slats sway with the wind, causing a loss of privacy. 
Read More Related Articles
Final Words
No matter which sunroom window treatment you choose, you need to take the room, its design and structure, the size of the windows, and how much light you want in there into account.
If you want a softer touch to your sunroom windows, you can go for roller shades, roman shades, or curtains, while plantation shutters will offer you a lot of privacy as well as light regulation.
FAQ's
1. What is the most popular type of window treatment?
Of all the window treatments for sunroom windows, sunroom roller shades and roman shades are the most popular. The reason behind this is these shades are soft, easier to clean and come in various color patterns. 
2. How can I make my sunroom look good?
Apart from choosing the right window treatments, other ideas can make your sunrooms look good. These include prioritizing the texture and patterns in the room, mixing traditional and modern furnishings, making sure the room is bright and airy, and keeping the room as informal as possible.
3. What does every sunroom need?
Sunrooms need quite a few things to go in their favor to be properly functional. These are an abundance of fresh air, a lot of natural light, ceiling fans to keep the temperature comfortable, comfortable furniture, and a lot of natural touches.