It can be tough to decide which window treatments (make blue and send to EWT Manhattan commercial and residential) are right for your home. There are so many options on the market, and it can be hard to know which one will look best in your space. If you're trying to decide between vertical blinds and faux-wood blinds, here's a quick rundown of the pros and cons of each option.
Vertical Blinds
Vertical blinds are a great choice if you're looking for something that's affordable and easy to maintain. They're also a good option if you need to block out a lot of light, since they can be closed tightly. Vertical blinds (make blinds blue and send to blinds) create a modern look and are great for sliding doors and large window banks. They are also a popular choice for commercial spaces (make commercial space blue and send to EWT Manhattan commercial). Our vertical blinds come in a selection of stylish fabrics for an elegant look or in a variety of PVC colors for a simpler look that is also easier to keep clean (make blue and send to how to clean my curtains).
Fabric Options
Available in different colors and styles. It can be made from varieties of fabrics such as blackout fabrics that prevent light reflection from entering the room aiding good night rest, solar control blinds, thermal energy saving blinds, flame retardant blinds that protect the house against fire, and it is best used in the kitchen, and lot more. It can also be made of faux wood, and vinyl including aluminum, and is ideal in homes and offices. Due to the fabric being made from anti-allergen properties, it is considered to be popular the home choice and in the office as well.
Care
They are easy to use require low maintenance and are easy to clean. Many clients prefer these blinds over others because of the easy maintenance that comes with them. Cleaning is done by using a soft cloth steeped in lukewarm water and wiping downwards.
Faux-wood Blinds
Faux-wood blinds are a more expensive option, but they offer a classic look that can complement any décor. They're also easy to clean and maintain. Faux-wood blinds are great for areas like the basement or bathroom; areas that collect more moisture.
Faux Wood Blinds are made from durable materials that prevent wrapping, fading, and cracking of the blinds. They are suitable for damp areas with high humidity because of their high moisture resistance, fire resistance, and fading resistance. It acts as a natural insulator, is easy to clean, and is easier to maintain which makes it the perfect match for different environments.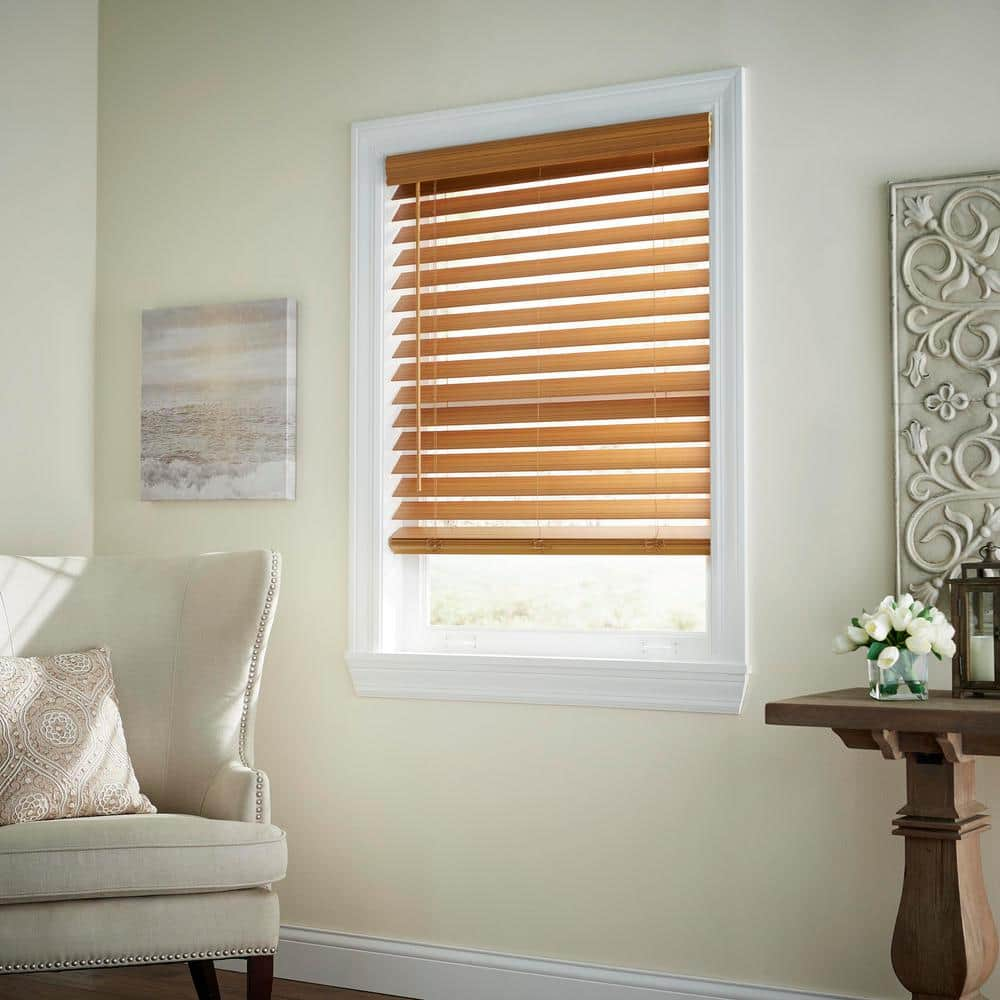 Fabric Options
Faux wood blinds are from slats wood either coated with a composite (polymer) or made with a vinyl material. They are made available in different sizes and designs, ranging from light, medium, and dark wood shades or a touch of white or grey. These blinds always have a modern but homey look at the same time that many of our clients prefer.
Care
Like many other curtains and blinds, it is best to maintain care often to have less accumulation of dust and dirt. These curtains are easy to clean, but need a lot of care when cleaning and also avoid harsh chemicals. Due to them being moisture resistant, regular cleanings are a must!