Windows play a vital role in the energy efficiency of the house as well as in maintaining its inhabitants' privacy.
To ensure you can regulate the amount of light entering your room as well as protect your privacy, choosing the right window treatment is very important. One of the best and most commonly used window treatments is window shades.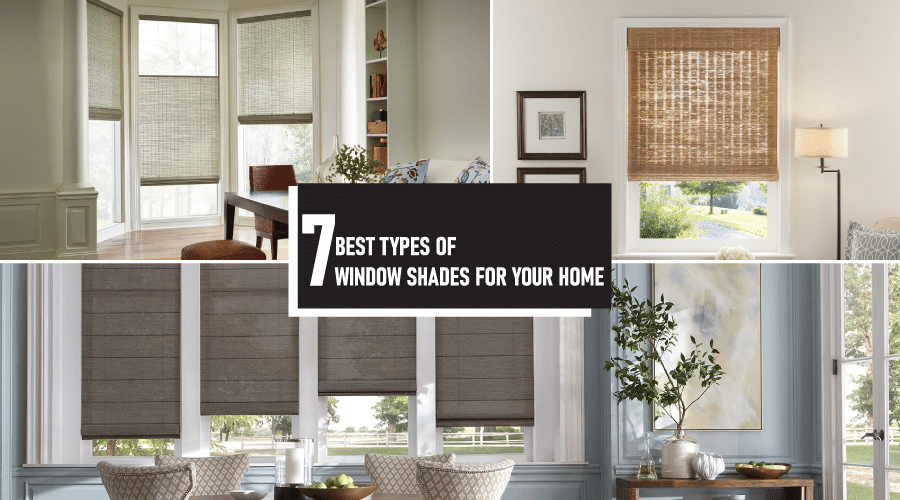 There are a lot of different types of window shades available in the market. One of the most commonly used shades is roller shades, while cellular shades are also becoming very popular. If you want a different type of shade, you can go for roman shades, as they have a different texture.
There are other shades you can choose from as well, such as solar and pleated shades, etc.
Let's take a detailed look at the 7 best window shades for your home.
What are the different types of window shades?
Window treatments such as blinds, curtains, and of course, shades are placed so that the light and air coming through the windows can be regulated.
Also, they play a vital role in maintaining the home's privacy, as otherwise people could easily peek inside and see what is going on in the house.
Among all of the window treatments in the world, shades have been one of the most used ones, due to their ability to block out and regulate light and an increased level of privacy. So, if you want to install shades in your windows, here are a few options you can choose from.
1. Roller shades
One of the most popular types of window treatments, let alone shades, roller shades for windows are suited to every single one of your needs.
It doesn't matter if your house is old or modern, these shades will fit the design of your house like a glove. Also, they are suitable for every kind of room and window.
Especially if you have smaller windows, these shades, which are one of the best types of shades, are especially suitable for those.
Also, roller shades let in a lot of natural light without compromising the energy efficiency of your house. You can also get automatic roller shades, which are suitable for homes with children and pets, as they have no cords.
2. Cellular shades
If you want to install a shade that is not too common, cellular shades can be a great option for you. These shades have unique looks and design, that makes them stand out from the rest.
Due to their honeycomb-like design, they let in a lot of natural light but protect the energy efficiency of the room as well as the house.
These shades are also great for keeping the privacy of your home, since it is very difficult to peek through them, as with most shades.
The honeycomb-like structures in these shades also trap air inside them, which makes sure the room remains warm in the winter and cool in the summer. This increases the home's energy efficiency.
3. Solar shades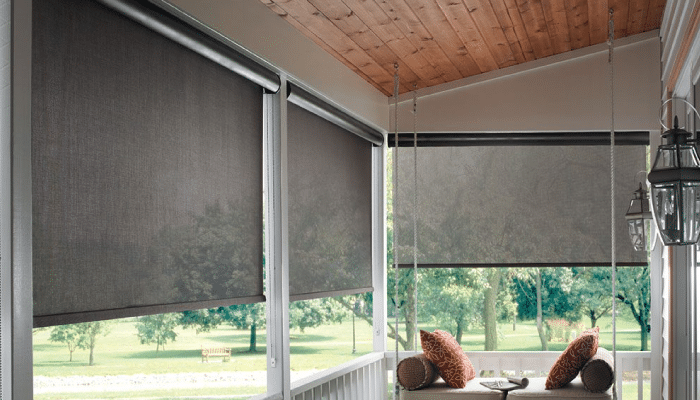 Solar shades are especially suitable for people who live in warmer climates. As summer approaches, the climate gets warmer and warmer, and more and more sunlight starts to come through the windows.
Not only does this increase the temperature and light inside the house, but it also increases the amount of harmful; UV rays entering the house.
Solar shades can block out UV rays as well as regulate the amount of sunlight coming inside the house. These shades are weaved in such a way, that very little sunlight can pass through them, so if you want a shade that can make your house a bit darker, you can go for them.
4. Roman shades
If you want shades for your windows, but want the texture and feel of curtains and drapes, then Roman shades are your go-to window treatment.
Not only are they soft, but they are also very durable, and can fit windows in every room and every dimension. You can also pick and choose from hundreds of colors so that you can determine how much light enters your room.
5. Pleated Shades
If insulation is not at the top of your agenda, and you prefer aesthetics and the curb appeal of your house more, then you can go for pleated shades.
These types of shades are built from the same materials as cellular shades, but due to a lack of honeycomb-like structures, they can't trap as much air as cellular ones.
But they trump their cellular counterparts in terms of aesthetics. The looks of these shades as well as their pleated nature when they are opened give your house a new dimension.
They can also be automated, which only increases the aesthetics of the home's interior.
6. Woven Wood shades
Wooden materials always have a sense of elegance and timelessness in them, which only adds to the beauty of the interior of a house. Woven wood shades are no exception to this too.
These shades are usually made of wood with a mixture of other materials such as bamboo, reed, and grasses.
These shades not only act as a decoration for your home's interior, but they also have increased functionality. Since wood is not a good conductor of heat, it helps to maintain the energy efficiency of the house, as well as providing a higher level of privacy.
7. Transitional shades
The final type of shade in our list is the transitional shade. At first glance, one might think that these shades have a gap in them.
But in reality, these shades are made of two different layers of fabric, both of which have different colors. As the day passes, the amount and intensity of the sunlight coming into the house change.
Transitional shades help you to determine what amount of light will enter your room at which time, by enabling you to control the opacity of the shades. Apart from their excellent functionality, transition shades also have aesthetics that carnival any other shades in the world.
Especially if you have an open room with only a few decorations, these shades are perfect for that.
Final Words
Among all the types of window shades mentioned above, the best type of shade is the one that suits your needs the most. So, take a look at what your requirement from your shades are, and choose the one that seems like the best for you.
No matter which one you choose, with shades, you are guaranteed increased light regulation and aesthetics.
FAQ
1. What are the 3 types of blinds?
Apart from shades, you can also install blinds in your home. The 3 best types of blinds are Roller blinds, Roman blinds, and Venetian blinds.
2. What is the most popular window treatment today?
Trends regarding home decorations can change in a matter of weeks. But as of 2023, the most popular window treatment is roller shades, which has been the case for the past few years. This goes to show how effective these shades are.
3. What's the difference between shades and blinds?
Although they are quite different, people, especially new homeowners can sometimes confuse shades and blinds. Shades are made of a single covering, and the material of them is soft.
On the other hand, blinds have slats made of tougher materials that have gaps between them.