Product Features
Motorized skylight (make blue and send to motorized benefits) shades are the perfect way to control light and heat entering your home through the skylight. By using a remote control, you can easily adjust the angle of the shade to block out the sun when you want privacy or darkness, or to let in natural light when you need it. Motorized skylight shades are also a great way to reduce energy costs. By blocking out the sun's heat in the summer, they can help keep your home cool, and in the winter, they can help trap heat inside, keeping your home warm.
A new line of motorized (make blue and send to motorized page) skylight shades that can be powered by solar or battery power. You can now control your shades from the comfort of your chair using a hand-sized remote. They provide a superior finished look to your skylight windows by simply removing dangling cords, making them well suited for safety in homes with kids.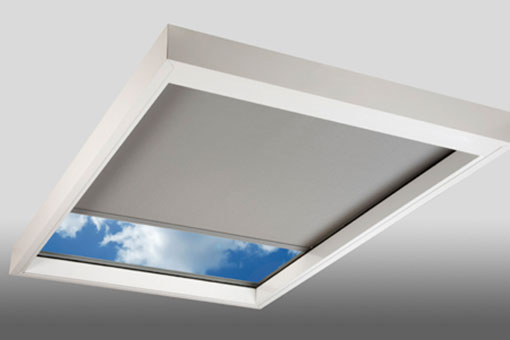 Design Options
The Motorized skylight shades are designed to serve the following functions: Increased privacy and control over light. Safety and accessibility have been improved. Control is simple with remotes or mobile phone apps. With timers, you can set up an automated schedule to open and close the shades even when you're not at home. These shades are ideal for difficult-to-reach or large windows that require no physical labor.
Energy Efficiency
The Motorized skylight shades are used in regulating sun rays to your likeness (either block out or allow it penetration). The fabric material used also plays a role in its energy conservation. Our biggest mission for our clients is conversing energy in their homes which is a huge benefit.
Fabric Options
We offer a variety of fabrics for our clients to ensure their liking and create a better style. The room should be visually appealing and pleasing to the eye. As a result, the fabric is designed to prevent UV rays from penetrating the following are:
● Natural fabric
● Flexible fabric
● Cellular or honeycomb fabric
● Insulation fabric
● Synthetic fabric
● Minimalistic fabric
Care
They are also extremely simple to clean (make blue and send to how to clean my curtains) and maintain. With appealing designs and eye-catching patterns. Skylight blinds, like all surfaces in the home, can accumulate dust and the following are the cleaning culture to abduct:
● Dust regularly.
● Clean up spills regularly.
● Use Vacuum.
● Wipe the frame down.
● During the cooler months, clean.
● Soak for a few minutes to loosen the dirt.
● Clean with non-abrasive cleaners.
● Make use of a squeegee.
If you're looking for a way to control light and heat entering your home, and save money on energy costs, motorized skylight shades are a great option. With our reasonable prices, you too can get your window treatments motorized today!