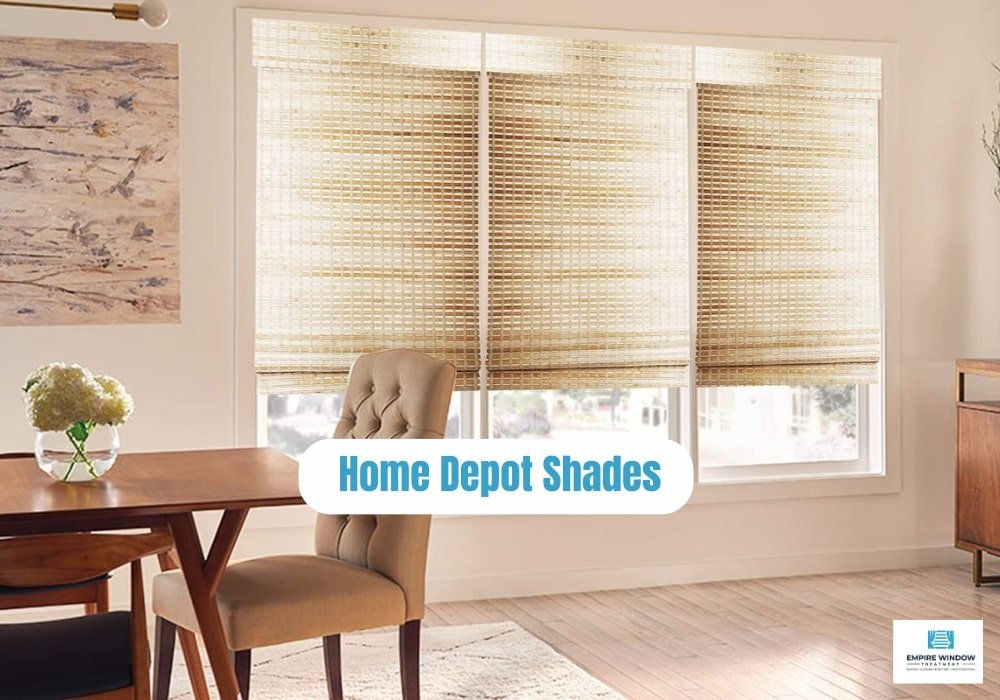 Home Depot shades for windows: When it comes to decorating your home with an eye toward increased functionality, window treatments have no rivals. They beautify your home, as well as provide energy efficiency and privacy to it.
This is why it is a must that you always select your window treatments such as shades from the best place. And there is hardly any place better for finding the right shades than the Home Depot.
There are a lot of home depot shades for windows that can lay claim to being the best. Among them, you can go for cellular shades for exceptional insulation and energy efficiency.
You can also choose roller shades for simplicity and versatility. Roman shades are very popular as well since they have an elegant look.
Let's take a deeper look at the top shades you can find in the home depot.
Best Home Depot window shades
Window shades are one of the most popular home window treatment ideas in the world, due to their simplistic operation, stylish and elegant look, and customizability.
But to get the most out of them, you have to get them from a well-reputed place, which will ensure their durability and overall quality. And hoke depot is one of the best places for it.
When you go to the home depot for window treatment designs, you will be spoilt for choices, since there are a lot of different types of shades in there.
Among all of these, we have specifically selected 4 shades that are a touch above the rest. Let's take a look at these.
1. Cellular shades
Cellular, or honeycomb shades are one of the most unique window fixture ideas based on their look and function. These shades have honeycomb-like structures that trap air, which insulates the room.
As a result, your home will be cool during summer and warm during winter. This makes your home both comfortable and energy efficient.
The functionality of these window treatment design ideas isn't the only thing going for cellular shades. The unique look that these shades have adds a lot of aesthetic value to your home and increases its curb appeal.
Since they make your home energy efficient, they are a very cost-effective choice for window treatments as well.
2. Roller shades
No matter how luxurious and unique your window treatments are, all of it will be for naught if they don't have a smooth operation. This is not the case with roller shades as they are one of the simplest shades for windows at home depot to use.
When you open these shades, they simply roll up toward the top of your window, occupying very little space, and minimizing clutter.
Apart from being very easy to operate, roller shades are very versatile as well. They have a lot of different colors and patterns that will allow you to choose the level of privacy you want in your home. These shades are also excellent in regulating light.
3. Roman shades
If your goal is to give your room a softer texture, like curtains but you don't want to have a long drape or curtain, you can go for Roman shades.
These are one of the most elegant new window treatment ideas in the market. Everything about these shades screams elegance.
From the way they neatly fold up in pleats when opened, to the way they offer a smooth, soft, and flat texture when closed, there isn't much that can go wrong with Roman shades.
These shades are also very good when it comes to regulating light and providing privacy, due to them having a variety of fabrics and color patterns.
4. Bamboo Shades
If you want to give your home a more natural feel, then you can go for installing bamboo shades. These ideas for window treatments are made of completely natural materials, which provide a more natural and cooler texture to your room. These shades are also quite durable, despite being made entirely from natural materials.
Also, as far as style and aesthetics go, there aren't many window shades that can trump bamboo shades. They can also regulate light well since bamboos are opaque substance.
Final Words
When you choose the best home depot shades for windows, you need to consider a few things. First, you need to take a look at your budget.
Next, you need to consider what you want from your shades. Then you can finally choose the perfect shades from the Home Depot for your windows.
FAQs
What are the benefits of installing window shades?
Shades have a lot of benefits when installed in Windows. These include controlling privacy, filtering and regulating light, having a lot of different color patterns, etc.
Can I install window shades myself?
In most cases, you can install the shades for your windows yourself. But for automated or customized shades, you should consider getting help from a professional. 
How do I clean shades?
The cleaning method of shades depends a lot on the type of shade and its material. Moist shades can be easily cleaned using a soft cloth.
You can also use a brush attachment to vacuum your shades. Before cleaning, you should take a look at the cleaning manual provided by the manufacturers.