Motorized curtains are one of the fastest-growing things on the market. With just one click or voice control, you set the notion of how your curtains or shades will work. These window treatments are becoming a hot commodity and with all of our design options, our clients have endless options to choose from. Here is a list of benefits that our clients should be aware of when choosing motorized window treatments.
Enhanced Appearance
How your windows control shade and natural light is a crucial aspect of interior design. Motorized window treatments can elevate the beauty of your interiors as they provide a smart and sleek look to the room. They are available in a wide variety of intricate designs, bright colors, and mesmerizing textures making them the perfect combination of technology and elegance.
Smart Functionality
Having to use cords is outdated and a headache on its own! With motorized window treatments, the headache is gone! With just a remote you can control your window treatments to your liking. Some smart shades can be charged by natural sunlight for up to 4-6 hours. The method of trickle charging makes the battery life longer than standard lithium batteries that are commonly used. But, if enough solar energy isn't available due to weather conditions, a backup electric charger is generally available to ensure your window coverings work properly.

Privacy Control
Having the windows in your home or office open all the time can be uncomfortable and unsafe. Having those from outside peep through can annoy an individual. This is why it's vital to use window treatments such as motorized blinds on your skylight windows and windows overall. They allow you to see outside when you want and easily block the room from prying eyes at the single touch of a button.
Energy Efficiency
The Motorized skylight shades are used in regulating sun rays to your likeness (either block out or allow it penetration). The fabric material used also plays a role in its energy conservation. Our biggest mission for our clients is conversing energy in their homes which is a huge benefit.
Safety for Pets and Children
Motorized window treatments can be controlled with a remote, meaning there are no cords involved. With this being said, our clients may rest easy knowing that their toddlers and pets are safe from cords and other hazardous things. Additionally, remote operation means that you won't have to get up to open or close them leaving you free to do other tasks.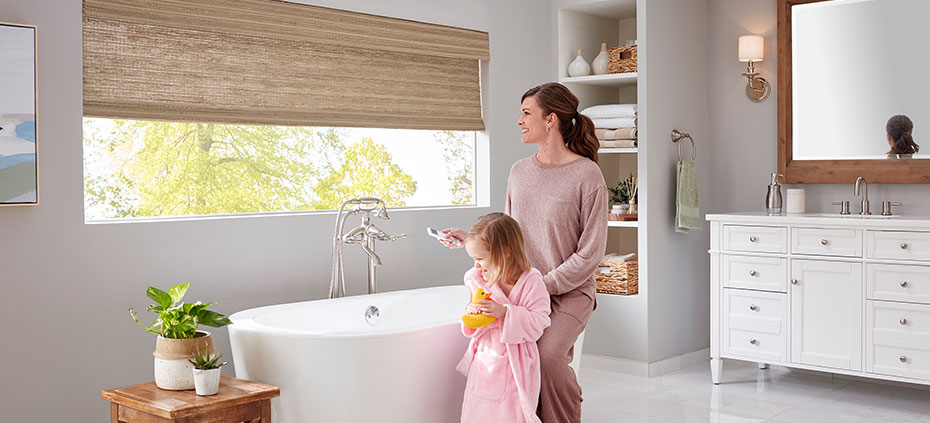 For these reasons alone, it's tempting to install motorized window treatments! Our designers work with our client's hand in hand to ensure that the process of window treatment is as smooth as possible. No need to stress, our designers will walk you through all of our options with motorized window treatments and so much more!