Bathroom windows are often small and can be difficult to find the perfect window treatment (make window treatment blue and send to empire window treatment of Manhatten) for. Here are 5 of the best bathroom window treatments to help make your space feel more open and bright.
Roman Shades
Roman shades are a classic window treatment option that can work well in a bathroom. They come in a variety of fabrics and colors, so you can find the perfect option to match your décor. Roman shades can be raised or lowered to let in natural light, and they provide privacy when needed.
Moreover, Roman shades are practical as they require little maintenance and are easy to use. Their design consists of folds of fabric that soften the appearance of the porcelain or ceramic fixtures commonly found in bathrooms. If your space has neutral or white interiors, Roman shades add a splash of color to liven up the space.
Roller Shades
Roller shades are another popular window treatment for bathrooms. They're simple and easy to use, and they come in a variety of colors and fabrics. Roller shades can be raised or lowered to let in natural light, and they provide privacy when needed.
Light-filtering roller shades are also suitable for bathroom windows that offer a scenic view as they allow a moderate degree of privacy while preserving your ability to see outside.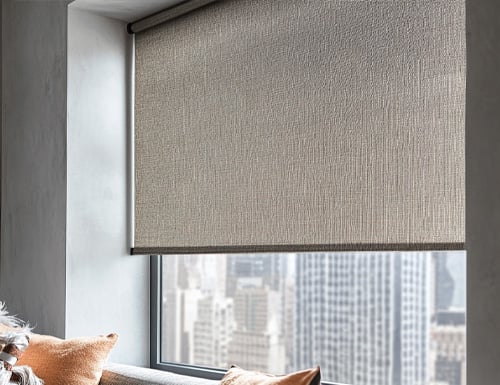 Honeycomb/Cellular Shades
Honeycomb (make blue and send to honeycomb page), also known as cellular shades, allows one to enjoy natural light while still being able to handle the moisture. These shades offer privacy, texture, and style. The beauty of them is the easy maintenance! Simply wet a sponge and light wipe.
These shades come in single, double, and triple cell options, with opacities from sheer to blackout. They can also be customized with top-down/bottom-up functionalities that allow them to cover the top or bottom portion of the window.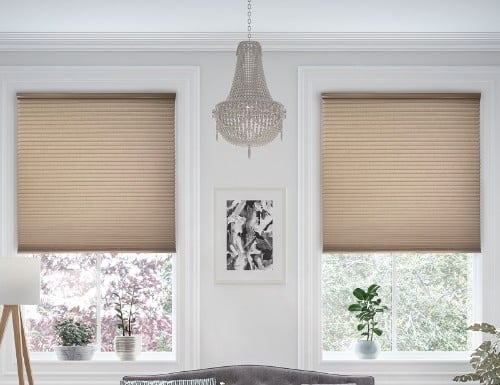 Sheer Curtains
Curtains are a popular choice for bathroom windows because they come in a wide variety of colors, fabrics, and styles. They can be hung from a rod or installed with a track, and they can be raised or lowered to let in natural light. Curtains provide privacy when needed and can add a touch of style to any bathroom.
If you want to create a light and airy ambiance, sheer curtains are the best touch. The soft fabric creates soft lines and is thin enough to allow natural light to stream in without impeding airflow.
Compared to other options, these sheer curtains don't give the best sort of privacy. However, you may pair it with a blackout lining to give it the extra fabric for privacy and optimal lighting.
Woven Wood Shades
Hand-woven from natural fibers like grasses, bamboo, etc, this window treatment adds a peaceful ambiance. Their top-down and bottom-up options ensure privacy while still allowing to see the outside view. These shades (make blue and send to woven shades) offer great lighting control and they can be used with or without a room darkening liner.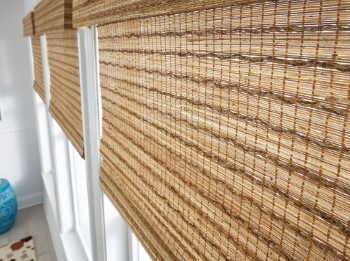 No matter what type of bathroom window treatment you choose, make sure it's one that you love. There are so many options available, so take your time and find the perfect one for your space. Take into account options that offer privacy, complement your decorum, and can hold moisture. Book a consultation with Empire Windows Treatment (make empire window treatment blue and send to empire window treatments of Manhatten) and see what best suits your needs!