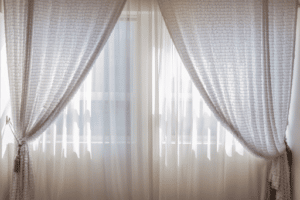 Curtains are an important part of every home, and they can be used to create a variety of different effects in your room. Whether you're looking for something with a retro feel or a contemporary look, curtains can provide the perfect finishing touch to your space. However, one of the most important decisions is deciding on the right type of window shades and blind hardware. In this article, we'll walk you through 5 easy steps that will help you choose the best curtain hardware for your living room. 
1. Determine the Material of Your Curtains
The first step to choosing the best curtain hardware is determining the material of your curtains. The most commonly used materials are polyester and cotton, with polyester being a synthetic material made from petroleum byproducts that creates an extremely smooth fabric. Polyester fabrics are very resistant to water, so they're great for use in bathrooms or kitchens where they may be exposed to moisture. Cotton, on the other hand, is a natural fiber.
Why Choosing the Right Curtain Hardware is Important?
Window shades and blinds can be a tough decision. There are many factors to consider like the weight of the curtains, the size of the window, and what your preferences are. But picking the right window shades and blinds is important because it's what makes your curtains hang properly. If you don't get this part right, then your curtains will either hang too low or too high, making them uncomfortable and out-of-style. Luckily, if you know a few things about the different types of curtain hardware, then picking out the right one will be a simple task.
Different Curtain Rods for Different Curtain Panels. As mentioned above, several different curtains can be used in your home. While some may not require curtain rods like sheer or panel curtains, others do, and it is important to make sure that you get the correct rod for your curtains. You want to choose curtain rods that look.
How to Pick Curtains Based on Room Size?
Curtain hardware should be selected based on the size and design of the curtains. When matching the curtains to the room, take into account where you want them to hang and how much floor space is available. For a small room, use thinner, lighter-weight curtains. Large rooms with high ceilings can accommodate more fabric and curtain weight with long draperies hanging on rods or a rod with two sides. The choice of hardware depends on how much weight needs to be hung. Related Post how to hang long curtains on rod long blackout curtains for bedroom how to make window shades and blinds look bigger.
Related Post living room window curtains kitchen window treatments for small windows curtain clips for grommet top curtains sliding shower curtain rod ideas white and yellow kitchen curtains how to hang bathroom window curtains blackout blinds for bedroom extra wide curtain rods 92-inch drapes.
Whether you have a bay window or not you can still create the impression of one in your home. 
What Length Curtains to Choose from?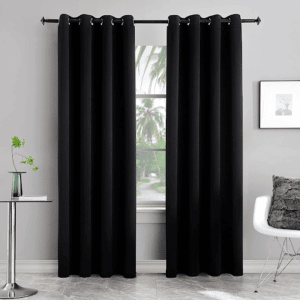 There are many different lengths of curtains that you can choose from. The most popular curtains are the 84″ length. The 54″ length is good if you want to create a feeling of openness while keeping some privacy. If you're trying to match your curtain rods as well as your curtain panels, then the 96″ and 120″ lengths are perfect for what you want! How to Buy the Right Curtains for Your Windows. Knowing how to buy the right curtains is not as hard as you think. Choosing a pair of ready-made curtains is not just about finding fabric and curtain length that matches your taste. Many other factors need to be considered, such as the color of the walls, natural lighting, and even the kind of window treatments used in other rooms of your house.
Long Curtains or Short Curtains to Hit Your Ceiling?
If you have short curtains, you'll want to make sure there's a way for them to hit your ceiling. You can do this by installing curtain rods from the ceiling or adding trim to the floor. 
Hardwood, Brass, or Gold Hardware?
The type of curtain hardware you choose will depend on both the look and functionality that you desire.
If you want a bolder look, then hardwood is ideal because it adds a rougher, more natural texture to your curtains. Brass or gold are also great options if you want something more luxurious and decorative. 
The most important thing to remember when selecting the right hardware for your curtains is the weight of the rod. Heavier rods need heavier hardware so that they do not sag from the weight, which will make an uneven line across your windows or doors. Those with more delicate, lighter curtains should find lighter-weight hardware that will not weigh down the fabric and pull it off the rod.
When picking the right curtain rod, you need to consider what material and style of curtains you have. You also need to know the weight of your curtains so that you don't purchase a rod that is too long. It's always best to measure twice and pick once! How to Hang Curtains on a Curtain Rod. This wikiHow will show you several different ways of hanging curtains on a curtain rod. The first method, done by simply resting the curtain rod over your window, is the easiest and requires no tools.
Window Shades New York
Window shades are one of the most important features of a home, and New York and NYC are no different. Shades can provide privacy, regulate sunlight and heat, and add a touch of style to any room.
There are several types of window shades to choose from, so it's important to know what type of shade is best for your home. Roman shades are a good option for traditional homes, while roller shades work well in more modern homes.
Window shades can be ordered from a variety of different stores, or you can order them online. If you're looking for a specific type of shade or have a tricky window shape, it's best to order them online.
Window shades are a great way to improve the look and function of your home, and they're a relatively affordable way to do so. If you're looking for a new way to dress up your windows, consider window shades.

Window Shades and Blinds
Window shades and blinds both have their own advantages and disadvantages.
Window shades are made of a material that hangs from the top of the window and can be pulled down to cover the window. Window shades are more decorative than blinds and can come in a variety of colors and materials. Window shades can also be made to block out the sun, which can be helpful in the summertime.
Window blinds are made of a material that hangs from the top of the window and can be pulled up to cover the window. Window shades in new york are more functional than shades and can be made to block out the sun or to allow light in. Window blinds can also be tilted to allow for different amounts of light to come into the room.
Conclusion
The steps above should help you pick the right hardware for your windows. The first step is to measure the width of your window and the height. Next, figure out what type of rod you want to use: a side-mounted rod, a center-mounted rod, or a top-mounted rod. Finally, figure out what type of finials you want – ball finials or decorative finials.