Window treatments are installed in windows for a myriad of reasons, such as regulating light and providing privacy in the room. Curtains have been used for these purposes as well as to increase the aesthetics of a house for a long, long time.
But when buying a curtain, you have to be careful, because there are a few things to consider when buying curtains. 
The first thing you need to consider when you are purchasing a curtain is the purpose of the window treatment. Next, you need to consider the fabric, the color, and the pattern of the curtains.
You also have to ensure the curtains fit the room you are installing them in. After that, you need to consider the length of the curtains according to your room and whether you have kids. 
Let's take a detailed look at what you need to consider when buying a curtain.
7 Tips when buying curtains
Over the years, the function of curtains has gone from simply providing privacy to improving the energy efficiency of a house, blocking out sunlight, and increasing the aesthetics of a house's interior.
As the functions have increased, you can no longer buy a curtain for your rooms willy-nilly, but rather you need to have a plan in place before doing so. 
Here are a few tips you can follow when buying curtains for your home is concerned.
1. Consider the purpose of the curtain
As mentioned earlier, curtains have quite a few functions. They can block out as much sunlight as you need, while they can also let in a lot of light, blocking almost none.
They can also alter the looks of a room. In addition to that, they can increase or maintain the energy efficiency of a room. Keep all of these in mind if you want to know how to choose curtains for the living room. 
2. Keep the fabric of the curtains in mind
The fabric of a curtain plays a big role in its functionality. Some fabrics are woven densely, so they can block out a lot of light, while some of the fabrics are very light, which can be used to make sheers. Sheers, unlike heavy curtains, let in as much sunlight as possible.
So, if you ever wonder how to choose curtains for bedrooms, ensure you choose the curtain that will block the most sunlight. 
Also, some fabrics are easier to wash and maintain, while others are a bit high-maintenance. So, when you buy a curtain, make sure you pay attention to every detail and see if you can maintain that particular kind of fabric or not.
Read our detailed explanation about the best fabrics for curtains.
If you think you cannot wash or maintain a particular kind of fabric, then it's best to stay away from that. 
3. Consider the kind of room 
The type of curtain will change depending on which rooms they are being installed in. For instance, your bedrooms and living rooms will need the most privacy, so you will need a heavier curtain.
These will not only not flow with air, but will also provide a better level of opaqueness, which will provide a greater level of privacy. 
On the other hand, for your children's bedrooms, you will need curtains that have a lighter color and less weight, so they can let in as much natural light as possible.
For informal living rooms, you can buy flat curtains, but for formal living rooms, curtains that can be pleated is the way to go. 
Sometimes it is better not to even have curtains in some places. For example, the kitchen is the place food is often spilled, and there is a lot of heat in that place.
So, it is better to go for shades or blinds in the kitchen than curtains. This will not only save you a lot of time and effort in washing the curtains regularly but will also decrease the risk of fire hazards. 
Also If your room has trapezoid window read our article to know the best curtains for trapezoid windows.
4. Mind the color and the pattern of the curtains
The color of a curtain plays a big role in both the energy efficiency of the room as well as its aesthetics. Darker colors tend to absorb a lot of heat, so they make the room warmer in summer. So, make sure you keep that in mind when installing a curtain directly facing the sun.
On the other hand, lighter colors tend to brighten up a room, which is suitable for kids' rooms. 
On the other hand, lighter colors fade more when they are exposed to sunlight for a long time. Darker colors are more durable in this regard, so you will have to find a balance between these two.
The color of the paint of a room also plays a big part in determining the color of the curtain suitable for that room. If the room itself has a dominating paint color in its interior, it's best to choose a neutral color for the curtain.
On the other hand, if the paint of the room is neutral colored, then you can choose a bold color for your curtain. So, if you are wondering how to select a curtain color for the living room or any other room for that matter, keep this in mind. 
As for patterns, the way to go about choosing them is pretty much the same. If the room already has a lot of patterns, the solid curtains will complement them perfectly. But if the room itself has no patterns, then curtains with patterns will add a lot of personality to it.
5. How long are the curtains
One very important part of buying curtains is knowing how to choose curtain sizes. Different rooms require curtains of different lengths, and their lengths can also play a big role in the aesthetics of the room.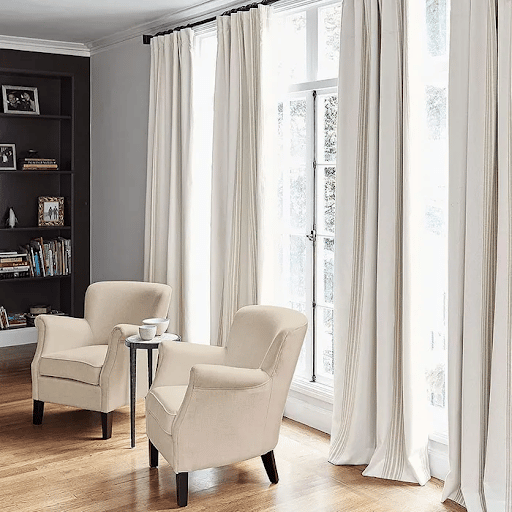 For example, if you want to choose a curtain for your living room, then you can go for a curtain that is hung about 6 or more inches above the window frame. 
Doing so makes your room seem taller than it actually is. Also, sometimes you can choose to hang curtains that are a bit taller than required, so that about a couple of inches of them are lying on the floor in a puddle. This increases the aesthetics of a room and gives it a unique vibe.
But this method of hanging curtains is not exactly the ideal one for the kitchen, as the fabric will become dirty. You will also run the risk of tripping on the curtains while walking in the kitchen, which can have catastrophic results.
For this reason, you should have shorter curtains for both your kitchen as well as the bedroom of your kids. 
6. Whether the curtains are lined or not
Whether your curtains are lined or not will also have a big effect on their functionality. Lined curtains are heavier, and protect the fabric of the curtains.
They also make the window heavier, and the double layer increases the opacity of the windows. This helps to increase the privacy level as well as blocks out more light. 
On the other hand, if your curtains are not lined, they will flow with air, which will bring in more light inside. So, if you want a curtain for your bedroom or living room, you can choose lined curtains, and for the nursery room, curtains that are not lined are perfect. 
7.
Customization
Custom curtains come in a multitude of design options. They are designed to fit your window size and shape, as well as the color of your room.
Patterns are present in a range of various pattern options, and curtains can be made to match. Custom curtains are more costly but may end up saving you money on replacing them early on. Chose the right windows treatment from empire windows to make your home beautiful.
Where to Buy
From rod hangers and hardware to curtain panels, the components for window curtains are available from several places. Stock curtain panels are available at big box, home improvement, and home decor stores in a range of colors, patterns, and styles.
They come in basic sizes that should suit most scenarios. You may also locate lots of curtain selections through internet window-covering websites. Chose the right window treatment from empire widows.
If you want something special, custom-made drapery is an option. You can change anything, from the fabric and embellishments to the header type.
The biggest negatives of this option are the extra expense to pay for the seamstress and the extended time it takes to have the bespoke curtains produced.
Final Words
A lot of things can affect your decision when buying a curtain. Knowing what things to consider when buying a curtain goes a long way to help you make up your mind, and take the best decision for your room.
It also saves you from a lot of hassle which would have resulted from you choosing the wrong kind of curtains. 
FAQ
1. What is the best curtain fabric for the living room?
The best living room curtain fabrics are the ones with a little bit of weight. So, fabrics such as velvet, linen, damask, etc are the most suitable for living room curtains.
2. What does one panel mean when buying curtains?
One panel of the curtain means the panel is made from a single piece of fabric. There are no specific measurements and the type of fabric of a panel.
3. When is the best time to buy curtains?
The best time to buy curtains is around the holiday season, because of their lower prices. So, if you want to buy a curtain, then choose black Friday, July 4th, or memorial day to do that.