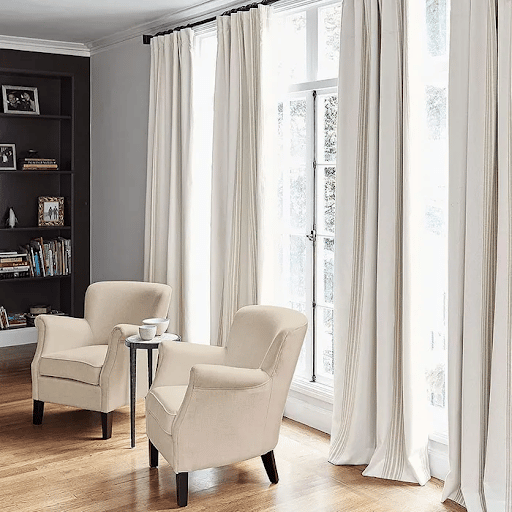 Window treatments aren't only pretty. They do a great deal more. Curtains can be used to ensure privacy, block out the light, and keep heat out of a room. Thus, when undertaking curtain purchasing, you have to go through both practical and aesthetic factors.
There's no clear set of criteria for curtain buying and most of the choice depends on your preferences. Still, if you don't know how to choose window treatment, the following recommendations may come in handy.
Formal vs. Casual
Window coverings blend in best with a room when they complement its style, whether that be formal or relaxed. The curtain style, material, color, and pattern factor into how official or casual the window coverings look. 
For example, formal curtains with tight pleats and fine silk fabric look at home in a spacious living room, while a flat panel made of informal linen works better in a relaxed area.
Length and lining
Before you take out the tape measure, consider how high above the window you'd like the curtains to begin. "Hanging panels higher than the window will provide a sense of height to the room," says our expert empire windows treatment.
Designers commonly hang curtains 3 to 6 inches above the window frame, but for a dramatic impact, others go higher.
Measure from the top of the window (plus the extra inches of height where the curtains will hang from) to the floor. For a more classic effect, with the curtain somewhat puddled on the floor, you'll like to add another two or three inches to your length. 
For a modern, crisp aesthetic, have the panel fall flush with the floor, choose window treatment from empire windows treatment to get some of the best options for your room.
Fabric
The proper cloth will depend on the type of room you are decorating.
Silk, linen, and velvet are the textiles that will hang best. When you are touring the showroom, pleat your fabric back like an accordion. The way it falls is the way that it will drape in your living area.
In a sunny space where seclusion is not a requirement, such as the living room or kitchen, linen and silk are ideal alternatives since they let the light through. Faux silk does not fade or disintegrate as quickly as real silk.
Contacting a professional can save a lot of your time, so chose the right window treatment.
Some materials are meant to help restrict heat from leaking through the window. Hotels and other public lodging spaces employ suede, tapestry, velvet, or tweed to help obscure the sunshine.
Color
No matter which material you choose, sunshine will degrade it over time. If you are hanging curtains in a substantially sunny room, bright colors may not be recommended since they tend to fade the fastest.
Choose a hue that will bring out the designs in your decor without being too matchy. Look for something that is in the family of your wall color, but in a little lighter or darker shade.
Neutral hues will be the least prone to dissolve into others. If needed, add interest with a contrasting band of fabric that matches your furnishings, wall, or flooring. Tie-backs and holdbacks will vary in shape.
Pleating
You will want to consider how you would want the top of your curtain pleated if you are a person who appreciates detail.
Pinch-pleated curtains, for example, give a classic, fitted aesthetic. The top part is gathered and pinched in a single, double, or triple-fold.
Goblet-pleated hems are much more elegant and formal and are best suited to a living room or dining room. The pleats are made in circular, goblet forms. They are then packed to appear fuller and keep their contours.
Other styles of pleating include a rubber gasket, which has lined apertures all through the top of the drape, and a formal curtain rod. Ripplefolded pleats are easy to push back.
curtain Positioning
Positioning is a crucial aspect when you hang curtains, and it might affect the size of the drapes you buy. 
For most windows, a height of four to eight inches above the window is ideal, but inching up a little higher gives the illusion that your windows are taller, and a company place can offer a touch of drama to the design. 
Testing several heights with the curtains on the rod lets you select which placement you prefer.
Care and Maintenance
Care guide for the design on how easy it is to clean your curtains and keep them looking like new. Curtains can be washed either by machine washable or through dry cleaning. Others need to be hand cleaned and air-dried.
Decide what type of maintenance you're willing to conduct. Machine-washable curtains make it simple to toss the window coverings in the machine whenever they need to be renewed. Chose windows treatments that are easily washable.
Size
Hanging your drapes higher on your wall will make your windows appear bigger. Aim to go at least five inches above your window frame.
On the sides, it is a good idea to add 4 inches to your window width, so that more of your glass will appear when the curtain is open.
For a draped look, your curtain should be twice as broad as your window. For something more customized, curtain panels can be merely two inches broader than the window.
Customization
Custom curtains come in a multitude of design options. They are designed to fit your window size and shape, as well as the color of your room.
Patterns are present in a range of various pattern options, and curtains can be made to match. Custom curtains are more costly but may end up saving you money on replacing them early on. Chose the right windows treatment from empire windows to make your home beautiful.
Where to Buy
From rod hangers and hardware to curtain panels, the components for window curtains are available from several places. Stock curtain panels are available at big box, home improvement, and home decor stores in a range of colors, patterns, and styles. 
They come in basic sizes that should suit most scenarios. You may also locate lots of curtain selections through internet window covering websites. Chose the right window treatment from empire widows.
If you want something special, custom-made drapery is an option. You can change anything, from the fabric and embellishments to the header type. 
The biggest negatives of this option are the extra expense to pay for the seamstress and the extended time it takes to have the bespoke curtains produced.